NICEFLOW® is used in a wide range of industries across all industry sectors. Once again, LEMMA team has been challenged in many benchmarks to prove that there is no need to have a 30 years old compagny to get the best results in marine or off-shore specific sector. NICEFLOW® is now well established as the most full-spectrum and accurate CFD solution, with strong reference on this market.
The numerical basin technology
In a high competitive industrial context, the experimental tests, even at reduced scale, are costly and time consuming for a project : breadboards realisation, tests equipment availability, tests duration and results analysis. Willing to provide efficient innovating solutions within a cost reduction approach, LEMMA has developped the numerical basin concept with its combined expertises in numerical simulation and hydrodynamics.
LEMMA has developed new numerical methods, faster and more accurate, implemented with parallel algorithms in the CFD software NICEFLOW®, which simulates the real turbulent flow of vessels behavior or oil platforms (floating structures).
The numerical performances of the numerical basin enable to seize the reality of physical phenomenon at scale 1. We now are able to
generate any type of wave : monochromatic, bi-chromatic, regular wave, regular wave packet, irregular waves , within any number of oscillating flaps or spectral methods. Linear or non linear approach considered to generate waves is coupled to RANS or LES-VMS models and allows us to perform very accurate simulations, up to order 6 in space (see example below untitled Numerical investigation of thermally stratified wake).
take into account current and wind without velocity limitation
modelise anchors (linear and non linear) linked to floatting bodies
study sea-keeping and manoeuvrability or non linear roll damping.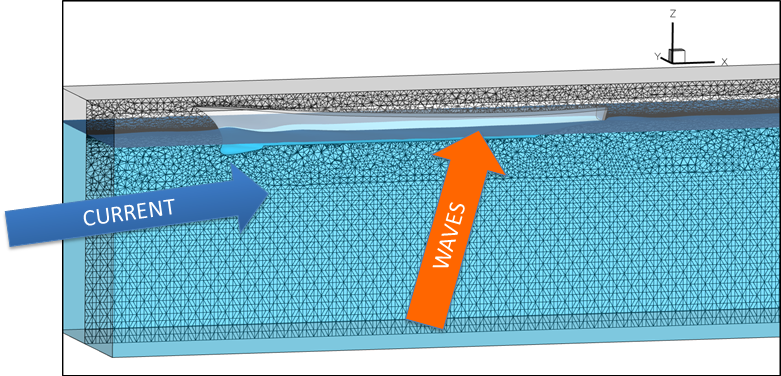 Numerical basin : wave and/or current generation.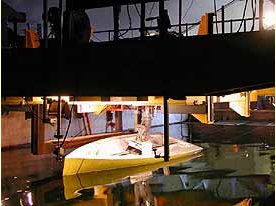 Numerical basin : analytical data.
Main benefits of our technology
Our initial aim was to develop a new technology to get both more accurate results within a time frame divided by 3 to 15 (depending on the application) vs other classical approaches implemented in most of famous other softwares packages. Clearly we want to change the standards in marine and offshore CFD market. How to achieve it ? By combining our background in applied mathematics and our knowledge in hydrodynamics. The method that we use allows us to impose spectral incident waves while reflected waves are calculated using a classical RANS model: that's the basics of the SWENSE approach initially proposed by the ECN research group (see the picture below).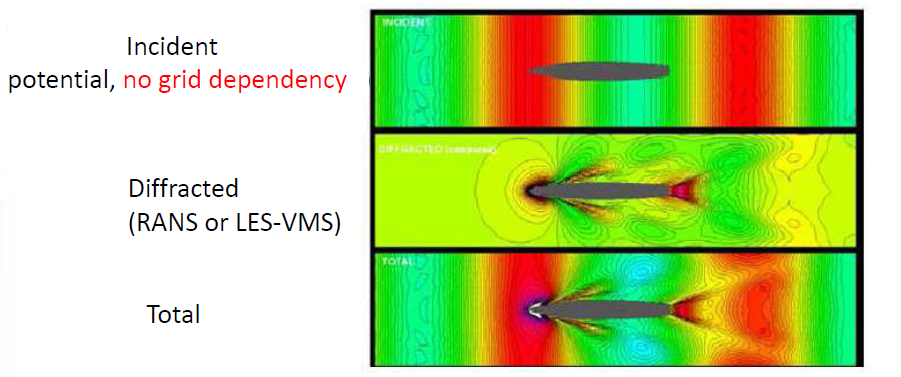 SWENSE decomposition. From R. Luquet thesis, ECN.
Academic validation test cases
Marine applications industrial cases